In the situation that has recently developed in the world all the food production facilities began to pay even more attention to sanitation and hygiene issues. The first place have taken alcohol-based disinfectants for hands, as the personnel can be one of the main sources and carriers of microorganisms.
Caring about health and safety of our clients ADVANTA offers universal sanitizers that are aimed both at personnel hands disinfection and at surfaces disinfection.
The packaging range is diverse – from individual packaging per 50 ml to canisters with volume 5 l for application in stationary dispensers.
---
IzAseptic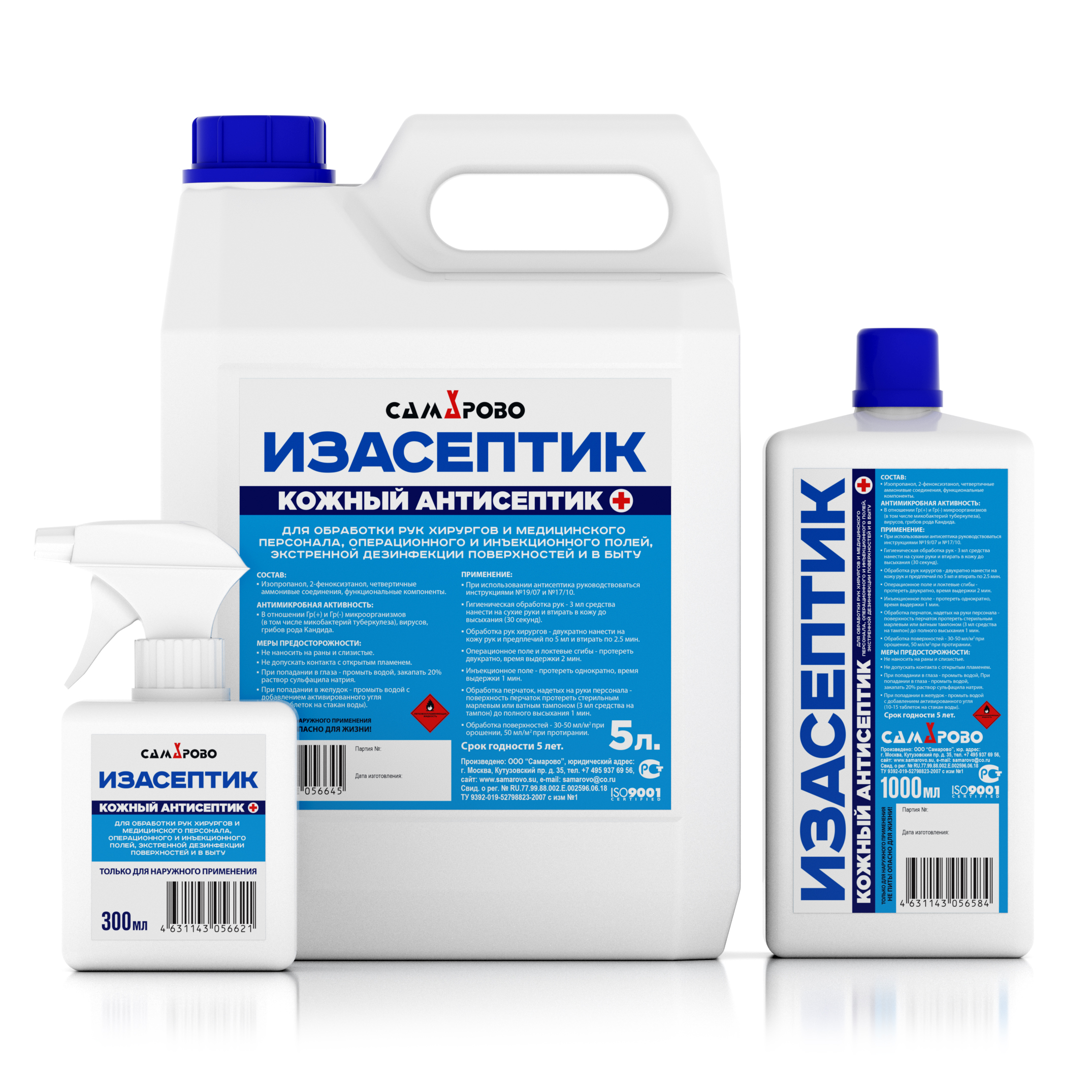 RTU solution designed for rapid disinfection of small and hard-to-reach surfaces and equipment at Medical Prophylactic Institutions of all types, Food processing factories, Food service companies, Community objects, Child-care facilities and for household use. It also can be used as skin sanitizer for hygienic treatment of hands of workers at Perfume and Cosmetic, Pharmaceutical and Microbiological factories, Food processing factories, Food service companies, Sales organizations (including cashiers and other staff working with banknotes) and Community services; for hygienic hands-washing at home (except children) and for hygienic treatment of hands of medical staff at Medical Prophylactic Institutions, Ambulance and in emergency zones.
The product provides antimicrobial activity against gram-negative and gram-positive bacteria (including Mycobacterium tuberculosis), Candida fungus, Hepatitis C virus and HIV infection.
The active ingredients of IzAseptic are isopropanol, alkyldimethylbenzyl- and alkyldimethyl (ethylbenzyl) ammonium chlorides (quaternary ammonium salts), 2-phenoxiethanol. It also contains skin emollient component and other functional additives. 
Packaging: plastic bottle 1 liter, polymeric jerry can 5 liters.
Shelf life: 5 years.
Instructions for surface treatment PDF
Instructions for hands and skin treatment PDF 
---
 Almadez-express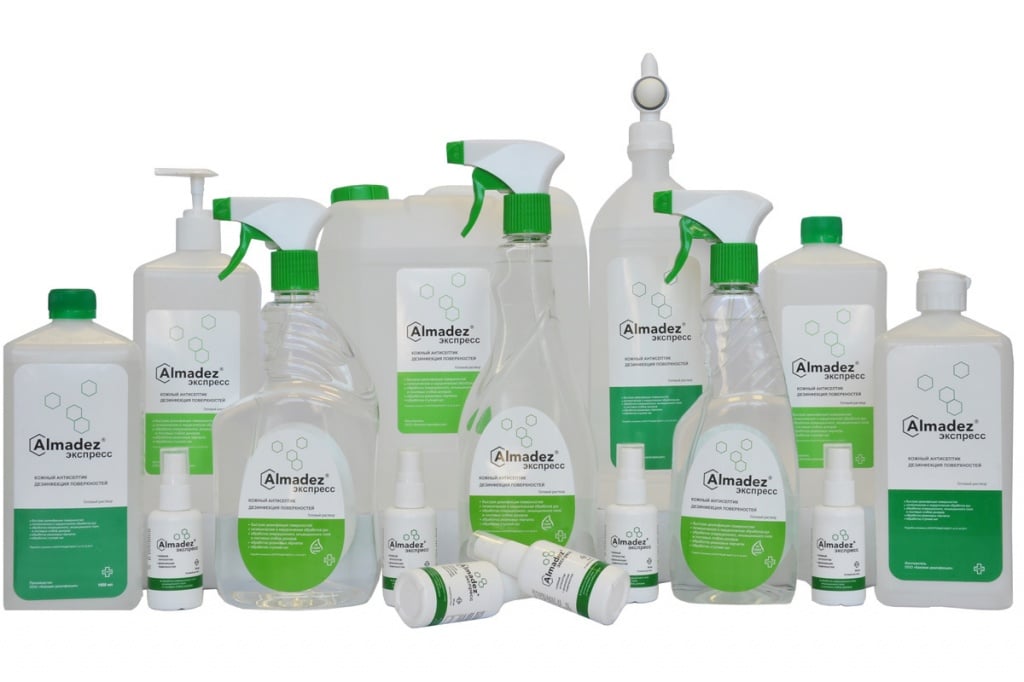 Ready spray solution for hygienic treatment of the hands skin of the workers in food industry facilities, public catering facilities and other as well as for express disinfection through spraying of small surfaces, hard-to-reach places, complex devices and electronic equipment, detector elements to ultrasonography apparatus in prevention and treatment facilities of any specialization, in childcare centers, in public catering facilities, household facilities and so on.  
– short exposure time (5-10 min.)
- easy to apply: 30 cm. distance irrigation.
- dries up rapidly without leaving traces on the treated surface.
- widely applied in food industry, cosmetic, pharmaceutical production facilities.
The preparation demonstrates antimicrobial activity towards gram-negative and gram-positive bacteria (including Mycobacterium tuberculosis), intestinal infectious diseases - E. Coli,S. Aureus, S. typhimurium; viruses (including rhino-, noro-, rota-, adenoviruses: viruses of enteral and serum hepatitis (including A, B and C hepatitis), poliomyelitis, HIV, influenza and parainfluenza viruses, SARS viruses, herpes viruses, measles,  ARVI provocators, cytomegaloviruses,  swine influenza viruses H1N1 and human bird flu H5N1, Candida and Trichophyton yeasts.
The preparation shows prolonged antimicrobial action within 6 hours.
Ingredients: mixture of propyl alcohols, alkyldimethylbenzylammonium chloride.
Packaging: bottle for individual usage 50 ml.
Shelf life: 5 years.
Ask a responsible technologist